Today Seabourn took delivery of their latest ship Quest at the T. Mariotti shipyard in Genoa, Italy.  This all-suite ship can accommodate up to 450 passengers.  Emmy and Tony Award-winning actress Blythe Danner will serve as godmother.  The ship will be named during a ceremony at the port of Barcelona on June 20, 2011; leaving later that day on a 14-day maiden voyage.  This fall the ship will sail out of Fort Lauderdale sailing the Caribbean.  View Seabourn's website for deck plans, virtual tours and videos.
Ten cruise ship passengers on board Royal Caribbean's Independence of the Seas were injured when an explosion and fire occurred at the port of Gibraltar. The blast took place at the territory's main fuel storage facility on the northern part of the harbor. The Independence of the Seas was forced to pull out to sea for safety.
YouTube video shows the raging fire as Independence of the Seas leaves the port for safety.
The Queen Mary began this Memorial Day Weekend in celebration of her maiden transatlantic voyage.  Read all about the festivities filled with pomp and circumstance here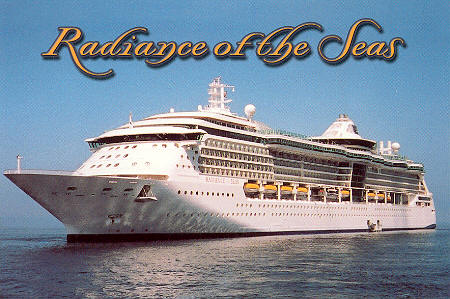 Royal Caribbean's Radiance of the Seas entered dry dock in British Columbia, Canada where it will receive Allure-ing upgrades before reentering service in Australia after it is done with the work on June 10.
The changes being made to Radiance of the Seas include
* Six single cabins will be added and, if successful, they will also be featured on other ships in the fleet
* Addition of outdoor poolside movie screen
* Seven new dining options
* Samba Grill (Brazillian steakhouse)
* Rita's Cantina (Mexican)
* Giovanni's Table (Italian)
* Park Café (Deli)
* Izumi (Sushi)
* Boardwalk Dog House (Hot dogs)
* Chef's Table (High end restaurant)
* Quill & Compass (Bar)
* Addition of Diamond Lounge and Concierge Lounge for Crown & Anchor Society members
* Wi-fi will be "enhanced
* Interactive televisions added to staterooms allowing passengers to book shore tours, order room service or check their SeaPass balance
* Addition of Royal Babies & Tots Nursery
Watch video highlights as Dame Shirley Bassey (best known for recording the theme songs to the James Bond films Goldfinger (1964), Diamonds Are Forever (1971), and Moonraker (1979)) christen's P&O's Adonia:
Adonia, formally known as the Royal Princess, is the smallest of the seven ships within the P&O fleet.  P&O reports that Adonia is designed to offer a wonderfully intimate cruising experience, she will radiate small ship charm. All of Adonia's features are outlined on the P&O website located here:
A judge at the US Bankruptcy Court in Delaware is scheduled to consider approving the sale for Ambassadors International, the parent of Windstar Cruises by Anschutz Corp. for approximately $39m.
Read the complete story here:
Following the electrical problems experienced on May 14th, MSC Opera has been towed to the port of Nynamshamn (nearby Stockholm, Sweden). As of yesterday afternoon most of the services have been restored. The crew, and technicians have been working around the clock to solve the electrical problem.
MSC Cruises is working with the port to get all passengers repatriated.  MSC Cruises is issuing all passengers a credit voucher for the entire amount of the 10-day cruise valid until December 2012.
MSC Cruises has taken precautionary measure of canceling the next MSC Opera cruise which was due to sail out of Southampton tomorrow May 17th. In order to maintain its high standard of security, quality and comfort, all affected passengers will be contacted and offered adequate compensation.

Princess Cruises recently announced the start of construction for the next ship in their fleet, named Royal Princess.  The Royal Princess is due the Spring of 2013.  This will be the third time that the name Royal Princess has been used.  View the complete press release here